BACK TO TESTIMONIES FOR PLANTS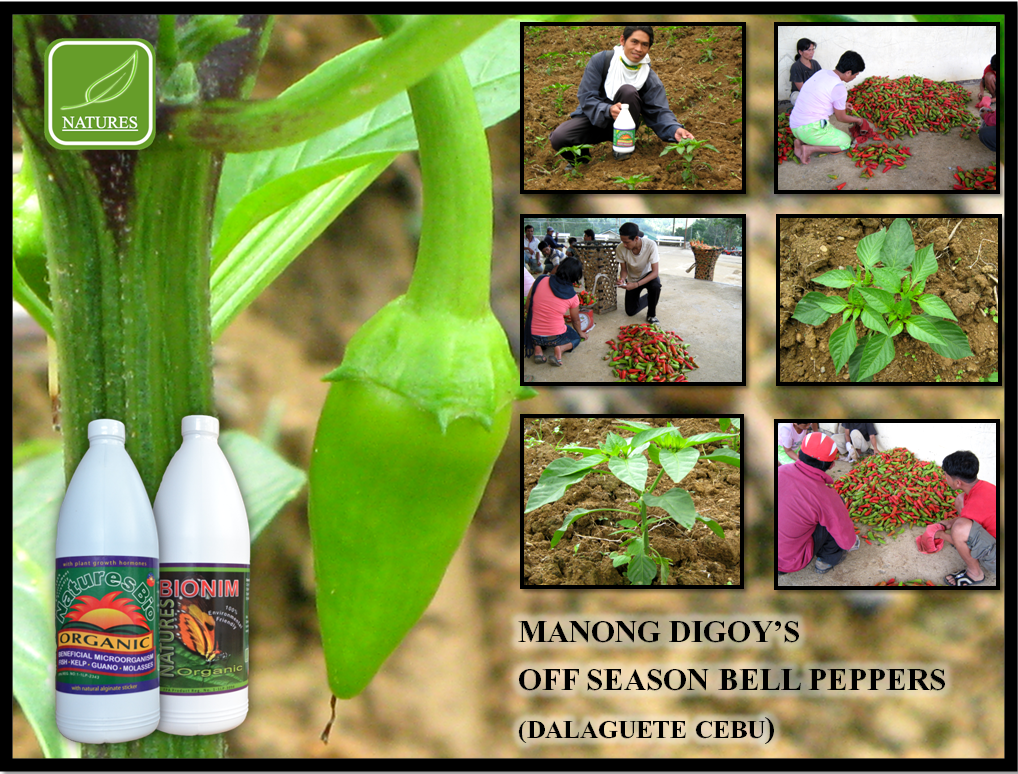 MANONG DIGOY'S OFF SEASON BELL PEPPERS
(DALAGUETE CEBU)
For the past months we have shared with you Manong Sitoy's Natures Bio Experience with his Cabbages and Carrots. Now his friend, Sir Rudrigo "Digoy" Anam wants to try Natures Bio Organic Fertilizer and Natures Bio Nim Organic Pest Controller this time with his bell pepper or "atsal" and wants to share his own Natures Bio Experience in Dalaguete, Cebu.
Manong Digoy witnessed the changes and improvement on Manong Sitoy's cabbages and carrots by using the combination of Natures Bio Organic Fertilizer and Natures Bio Nim Organic Pest Controller and was amazed by the results. He however still wants to challenge the product and convince himself with the efficiency on his bell pepper. He wants to utilize the fertilizer during off season periods of bell pepper.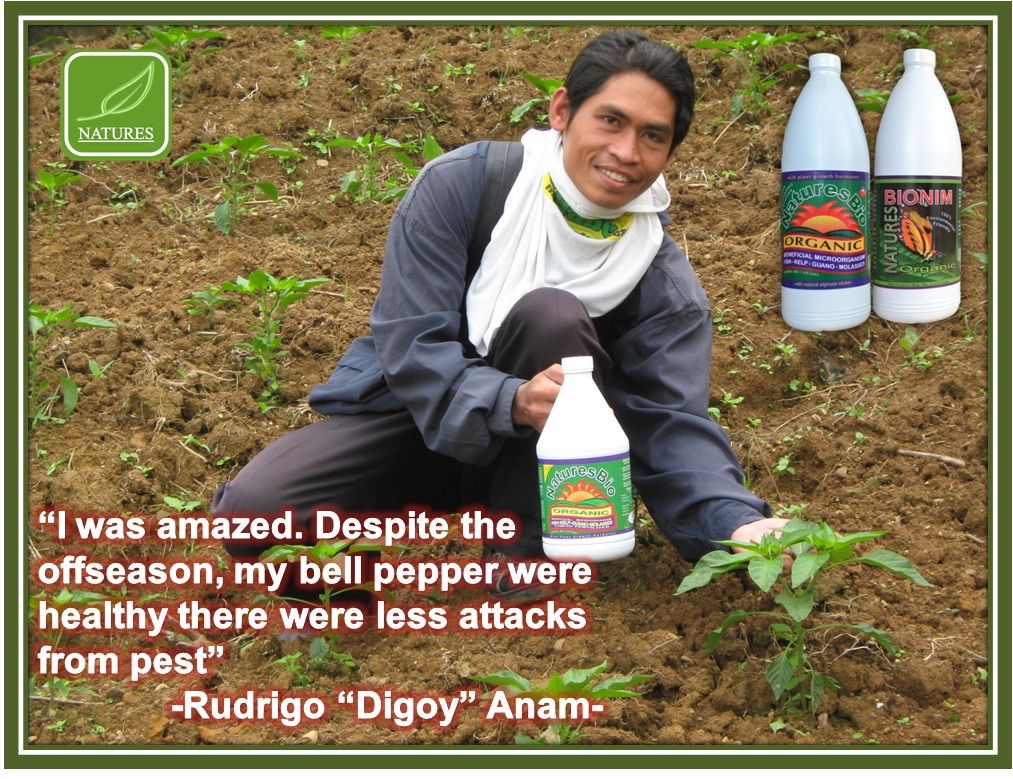 Even his neighbours and other people were questioning his decision since it is not the right time to plant bell peppers because of the current weather, despite the proper irrigation and good elevation of the place.  Though he was warned several times by his co-planters not to plant during off season, he pursued planting the seedlings with Manong Sityo's carrots maximizing the soil that was utilized.  Initially, he had some doubts about the product and so he started to test it with his bell peppers.
This is the protocol that was used for Manong Digoy's Atsal:
Soak seeds with NaturesBio solution (50ml/liter of water) overnight, before sowing.
Prepare and cultivate the soil and sprinkle with Naturesbio /BioNim solution before planting. (50ml Natures Bio Organic Fertilizer / 50ml Natures Bio Nim Organic Pest Controller / 16 liters Knapsack Sprayer)
Spray with Naturesbio solution (100ml / 16 liters Knapsack Sprayer) every 7 days during late in the afternoon (4:00 p.m.) until harvest. You can combine Naturesbio with Bionim on alternate application to prevent insects.
Spray 2 days before harvest to extend the shelf life.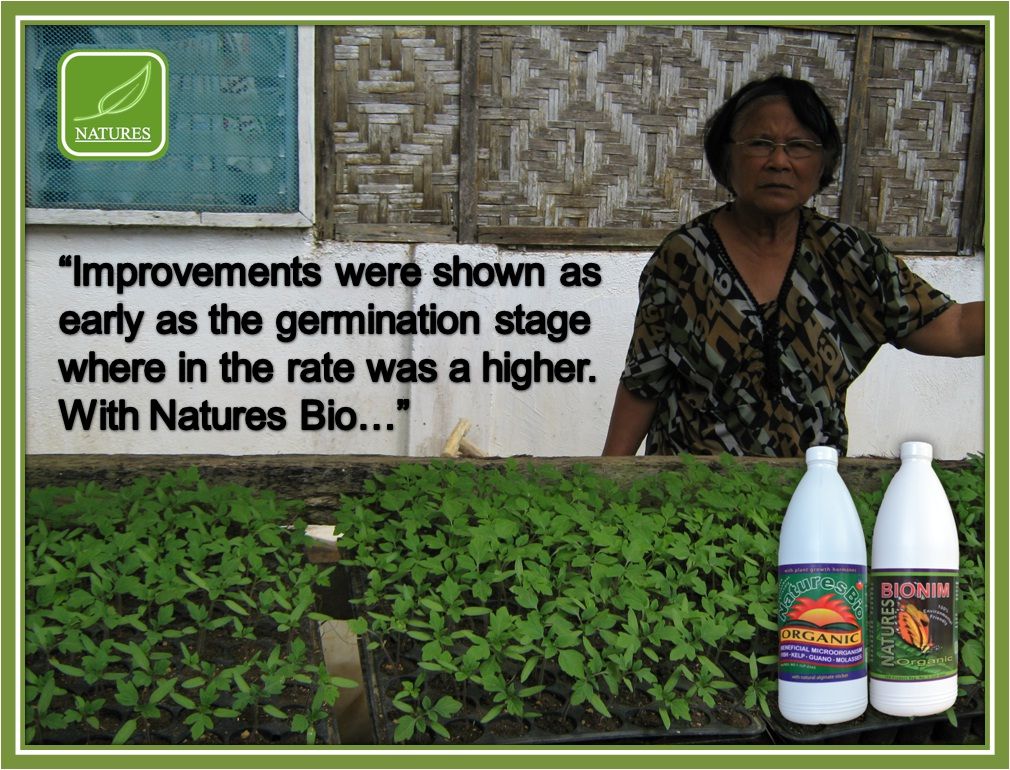 Manong Digoy was pleased with the results of the combination of Natures Bio Organic Fertilizer and Natures Bio Nim Organic Pest Controller to his Bell Peppers despite the bad weather and planting it off season. Improvements were shown as early as the germination stage where in the rate was a higher.
In the growing stage, they noticed good looking healthy leaves and healthy fruit. Surprisingly, there were less attacks from pests that occurred during the cropping and his neighbors were amazed. Manong Digoy managed to harvest his bell peppers after 60 days. With the healthy soil from the land preparation and the higher germination rate, he harvested healthy, bigger, shiner and undamaged bell peppers. He harvested more than the usual and was very happy with the outcome using Natures Bio Organic even off season.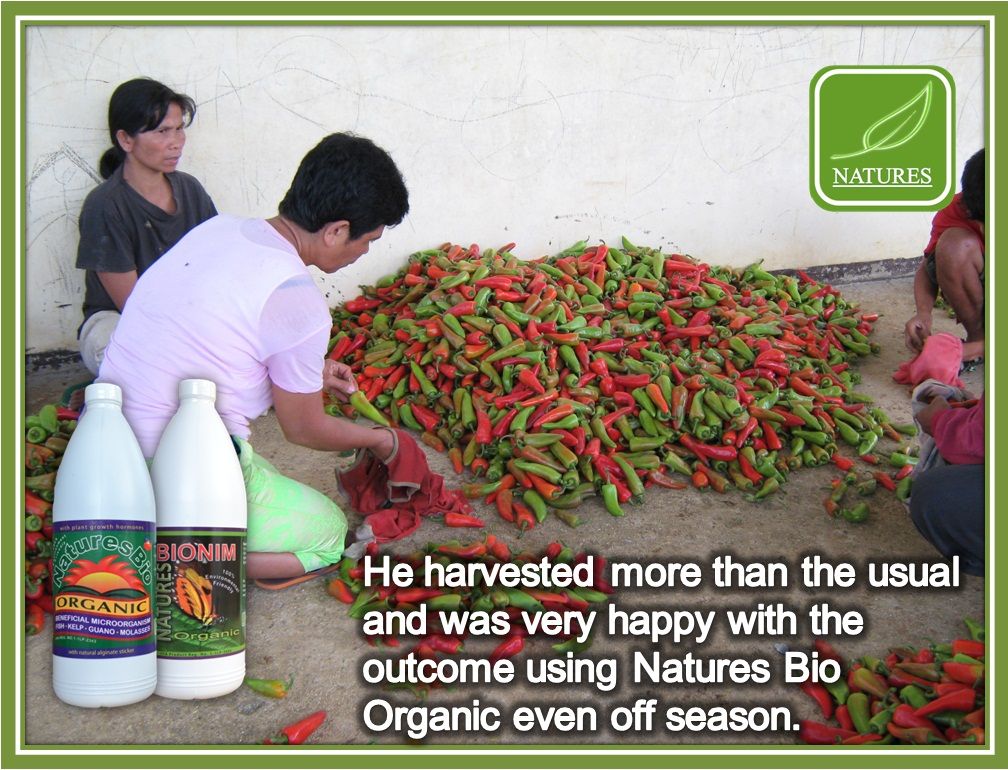 For more pictures of our visit please click the link:

You could buy Natures BioProtein - Probiotics at the following outlets:
Keep updated with our testimonies and other news, please add us on our facebook account (www.facebook.com/naturesbiorganic), LIKE our facebook pages
NATURES BIO ORGANIC FERTILIZER
NATURES BIO NIM ORGANIC PEST CONTROLLER
NATURES BIOPROTEIN - PROBIOTICS
and visit our website (www.naturesbiorganic.com)
Until the next Naturesbio experience. Thank you and God bless.
BACK TO TESTIMONIES FOR PLANTS